Personal Photo
Options
Custom Title
KO COALITION doesn't have a custom title currently.
Personal Info
Location: No Information
Born: No Information
Website: No Information
Interests
No Information
Other Information
ALIAS: No Information
CHARACTER AGE: No Information
APPLICATION: No Information
SHIPPER: No Information
GIF: http://i879.photobucket.com/albums/ab352/Labyrinth2k11/tumblr_mjr6prGupa1qffcrao7_500_zpseqmsd00d.gif
CUSTOM TITLE: No Information
Statistics
Joined: 30-January 15
Status: (Offline)
Last Seen: Apr 10 2015, 01:55 PM
Local Time: Jul 23 2018, 07:32 AM
23 posts (0 per day)
( 0.54% of total forum posts )
Topics
Posts
Comments
Friends
Apr 6 2015, 11:38 AM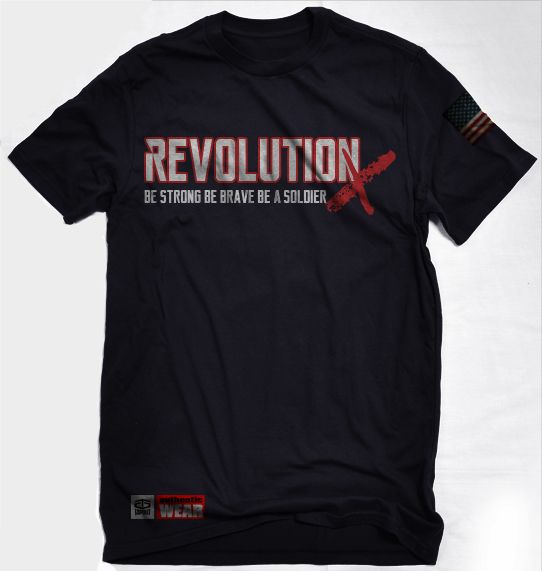 Revolution X's theme song "Superhuman" by Luke Keating plays out loud as the camera is focused on the front and back of a red, white and navy blue Revolution X t-shirt. Suddenly the camera now shifts over to the KO Coalition very own Kyle Lennox and Omari Johnson (both guys sporting the Revolution X t-shirt, long military olive green camouflage cargoes pants and black Tactical Combat boots) who both looks ready for in-ring combat with the Tag Team titles resting on their shoulders. As the champions begins to speak the volume of the theme song lowers.
Omari Johnson: Hey what's up?!
Kyle Lennox: This is your WWF Tag Team Champions here from WWF Studios in California.
Omari Johnson: That's right and boy do we have some good news for you.
Omari looks at Kyle who begins to speak.
Kyle Lennox: You see last week we debuted these brand new Revolution X: Be Strong Be Brave Be A Soldier t-shirt, and you the WWF world went crazy. Only to be disappointed that these shirts were not going on sale, .....like forever.
Omari Johnson: But like I said we have good news. These red, white and blue bad boys we're wearing are now on sale and if you order like right now.....
Kyle Lennox: He means right now!
He points down to the floor putting emphasis on "right now".
Omari Johnson: You can be a proud soldier of Revolution X, for only, .....eight ninety-nine.
Kyle Lennox: That's a heck of a deal.
Omari Johnson: Hell yeah it is. I mean that is one dollar less than the WWF Network.
They pause for a second and then Omari leans closer to Kyle and whispers something in his ear. A frown appears on Lennox's face.
Kyle Lennox: So what the hell you are waiting for? Get your ass up and order it now soldier!
Omari Johnson: Now!
Omari smiles as the volume of "Superhuman" raises once again. The image of the shirt, front and back is now on the screen, shortly after it fades to black and the WWF logo flashes quickly across the screen bringing an end to the commercial debut advertising the WWF Revolution X "Be Strong Be Brave Be A Soldier" t-shirt.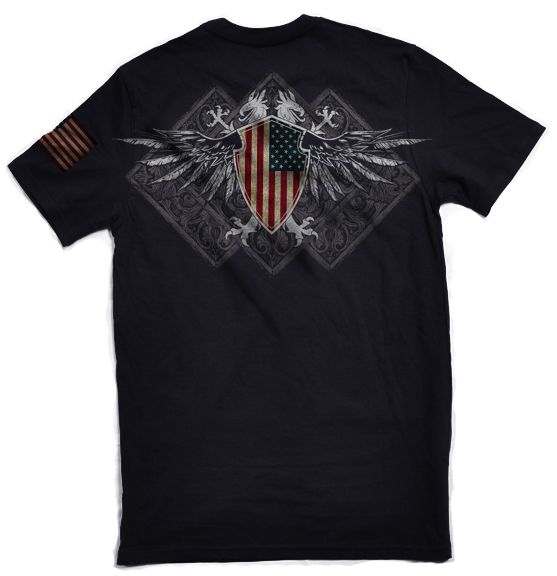 Jan 31 2015, 12:07 PM
[dohtml] <link href='http://fonts.googleapis.com/css?family=Oswald' rel='stylesheet' type='text/css'>
<style>.boxy { width: 400px; padding: 5px; text-align: left; font-family: 'Oswald', sans-serif; font-size: 14px; color: #5F0C0C; text-transform: uppercase; line-height: 15px; letter-spacing: 1px; border-bottom: 1px dotted #CCC; }.boxytext { width:400px; height: 320px; overflow: auto;padding: 5px; text-align: justify; font-family: Arial; font-size: 12px; color: black; line-height: 10px; }.boxytext2 { width:400px; padding: 5px; text-align: justify; font-family: Arial; font-size: 10px; color: black; line-height: 10px; }.picnotes { opacity:0.0; height: 210px; width: 360px; text-transform: uppercase; background-color:#000; padding: 20px; text-align: center; font-size: 20px;font-family: 'Oswald', sans-serif; color: #F6F6F6; line-height: 25px; -webkit-transition: opacity .5s linear; -moz-transition: opacity .5s linear; -o-transition: opacity .5s linear; }.picnotes:hover { opacity: .98 }</style><center><div style="width:470px; background-image: url(http://i.imgur.com/uoHaHIR.png);background-position: bottom left; background-repeat:no-repeat; background-color: #050505; padding: 25px;"><div style="width: 430px; padding: 20px; text-align: center; background-color: #000000; font-family: 'Oswald', sans-serif; font-size: 35px; color: #fff;">

KO COALITION

</div><div style="width: 430px; padding: 30px 20px 20px 20px; background-color: fff; opacity: 0.9; border-bottom: 5px solid #000000;"><div style="width: 400px; height: 250px; background-image: url(http://i879.photobucket.com/albums/ab352/Labyrinth2k11/koco_zpsd4b62701.jpg); margin-bottom: 10px;"><div class="picnotes"><div style="margin-top:40px;">

TWENTY-FIVE -- TWENTY-FOUR <BR>
OMARI JOHNSON -- KYLE LENNOX<BR>
FEBRUARY 13TH 1989 -- JULY 7TH 1990<BR>
OUTSIDE THE BUSINESS <BR>
RACIEL CASTRO -- COLIN WAYNE<BR>
@OMARIJOHNSON -- @KYLENX <BR>

</div></div></div>

<div class="boxy">APPLICATION</div><div class="boxytext">

<b>Ring Name:</b> Kyle Lennox -- Omari Johnson <br>
<b> Height: </b> 6'3" -- 6'4" <br>
<b> Weight:</b> 245 LBS -- 257 LBS <br>
<b> Hometown:</b> Dallas, Texas -- Miami, Florida <br>
<b> Alignment:</b> Neutral <br>
<b> Entrance Theme:</b> "Dangerous" by David Guetta ft Sam Martin <br>
<b> Finishing Move:</b> N/A<br>
<b> Manager (Optional):</b> None <br> <br>

<b> BRIEF DESCRIPTION OF ON-SCREEN CHARACTER / GIMMICK </b><br>

Omari Johnson, a former College Football Player from Miami, he's extremely athletic and powerful in the ring, good looking and has the Miami party style vibe to him. He loves himself, maybe kind of a narcissist. Kyle Lennox, athletically gifted bad ass modern day cowboy. While not as big as Omari, he is made of muscle and is also a power house like Omari. A major ego going for himself, probably the size of Texas. A former Marine and could be patriotic on an extreme side when he's ready. The two together could be diabolical and at the same time annoying, when they don't get what they want. They are two dangerous individuals that should not be taken likely. Kyle and Omari brings out the best of each other when in the ring together whether as opponents or team mates. Both guys are former 2x Television Champions and former 2x Tag Team Champions. They are best friends, almost like brothers.<br><br>

<b> BACK STORY OF THE KO COALITION</b><br>

Kyle and Omari meteoric rise in the WWF Tag Team Division was expected when the two decided to put aside their differences after a long feud that saw both guys picked up victories over each other on Ignite and pay-per-view events. In October 2013 Kyle and Omari competed against each other in a Last Man Standing Match to determine a Number One Contender for the WWF World Heavyweight Championship. This match was not only to determine who will go on to face the WWF World Heavyweight Champion at Extinction, but it was to bring their near year old feud to a closure in brutal fashion with a title shot as a reward for the winner. However controversy struck when both Kyle Lennox and Omari Johnson fail to answer the ten count from the referee, after falling from the eight foot high stage area onto the hard concrete ground. On the following Monday Night Ignite, Mr. Rossi confronted the controversy and came to the conclusion neither guy won the opportunity to challenge the WWF World Heavyweight Champion. Therefore he refuse to name either of them the Number One Contender. This was not welcome news for the 4x combine former WWF Television Champions. The two claim they was robbed by Giovanni Rossi and there is a conspiracy to keep them out of the World Title picture by WWF Management, going as far as accusing the referee to counting fast in the Last Man Standing Match and blaming stage crew for not placing protection pads around the stage area, which by the way, are usually the case, but for some reason there was no pads on that night. Mr. Rossi quickly denied all accusations from Kyle and Omari.
<br><br>

This is when Kyle and Omari put aside their hatred for each other and created the KO Coalition (Kyle Omari Coalition). January 2014 on Monday Night Ignite, Kyle and Omari became WWF Tag Team Champions for the first time in their young illustrious career. The KO Coalition held on to the tag titles and seemed almost impossible to defeat till the end of June 2014, where in controversy the referee counted a three count, without noticing Omari's leg on the bottom rope. This restarted the conspiracy theory that WWF Management are hellbent to slow down the KO Coalition. Once again Mr. Rossie denied any foul play. Never-the-less Kyle and Omari cashed in their rematch one week later, only to have Mr. Rossi making this rematch into a First Blood Tag Team Match for the titles. Kyle and Omari protested, but their complaints fell on deaf ears. Once again controversy reigned as Kyle and Omari was able to bust open one of their opponents, however the referee was knocked after he was accidentally struck with a chair by the hands of Kyle Lennox. The Tag Team Champions were able to quickly turn the tables on the challengers and bust open Kyle Lennox. The came around and notice Kyle busted open, before seeing the tag champ who was busted open moments earlier. The champions retained and all hell broke loose. Kyle and Omari threatened to sue the WWF for the continuous mishaps, but Mr. Rossi was determine to out the flame. So he gave the former champions what they wanted, a rematch at Locked & Loaded pay-per-view event. It just happened on the same night of this event, the two members of The KO Coalition Kyle and Omari contracts would expire at the stroke of midnight. Mr. Rossi did not realize this and was not informed of this until after the contract to the championship match was already signed. The KO Coalition promised to leave the WWF as the reigning Tag Team Champions. On the Ignite before the pay-per-view event they attacked Mr. Rossi, claiming it was the only thing other than leaving the company as the champions they wanted to do. On July 13th, the Kyle and Omari left the WWF with the Tag Team Titles and Mr. Rossi decided he will never ever sign them to a contract. <br><br>


<b> BRIEF DESCRIPTION OF OFF-SCREEN CHARACTER </b><br>

People will never forget the controversy between Kyle and Omari and the WWF. Many believe this was more than a storyline, it was personal and at some point both sides broke character. Many still trying to wonder if the attack on Mr. Rossi was out of character or it was all part of an amazing storyline. However many believe it is real, as the two was expected to return to defend the titles at Superslam 2014, but they never returned. To date they have not returned as many has been looking forward to. It has reach the point, many has moved on and WWF simply ignore the existence of The KO Coalition. Kyle Lennox and Omari Johnson are extremely fit and athletic, their size, speed and agility is what made them so unique, successful and likeable by many in the WWF, although their heel attitude turned off many from cheering them on. Both has the All-American look. Kyle Lennox served in the US Military from 18 to 21 before joining the WWF. Omari Johnson is a former College Football player. He decided to pursue a career in professional wrestling over a career in the NFL. They started training for the WWF at the same time, they joined WWF around the same time. They have been good friends off-screen, even though at time they seem to want to take each others' head off. It's probably why their matches has opponents and tag team seemed to have so much chemistry between the two. Today the two has been pursuing a career in Hollywood, both acting in "B Movies" that are set to air on SyFy later this year. When asked if they have any interest in returning to WWF while they was flashing the WWF Tag Team Titles they left the company with, the answer was not thought about or delayed, it was a big and confident "No". <br><br>


</div><div class="boxy">PLAYER</div><div class="boxytext2">

ARMAND. TIMEZONE. CONTACT.

</div></div><a href="http://z10.invisionfree.com/CAUTIONTOTHEWIND/index.php?showuser=34826">?</a></center>[/dohtml]
Apr 6 2015, 10:07 AM
Mar 24 2015, 11:31 AM
Mar 21 2015, 12:14 AM